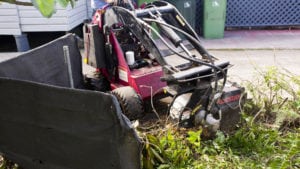 Once your tree has been cut down, you are left with an unsightly and potentially dangerous stump. As a part of the tree removal we always suggest that we grind the stump down so that it will not become an obstacle for mowing or other landscaping plans. When you hire Ron's Tree Services to perform your stump grinding, we will grind the stump down to the necessary depth for future landscaping needs. This leaves your yard or commercial landscape safe and beautiful again. We offer these services separately or as a part of the complete package of tree removal.
Grinding the stump down is accomplished by our experienced team,  We are fully insured so you know you have professionals on the job.
Please contact us for a free estimate at (850) 524-9567.